Ripple & Retail Project Associates
Covid-19 has presented many new challenges for retail and each sector has been affected differently.
Over the past few months retailers have been adapting to a constantly changing environment, and shifts in consumer habits and rules, consequently the things that are normally planned pro-actively suddenly require an almost overwhelmingly rapid transformation to enable them to continue to support their customers, maintain sales and protect their hard earned reputation.
For almost four decades Ripple has been helping retailers and merchants to attract, inspire and engage their customers, creating innovative environments to communicate, display and merchandise effectively and efficiently, from original concept through to the finished detail all designed, managed and produced in house. And, for those who need that extra support and expertise here is where we can help by taking on some of that burden. Our in-house team has extensive expertise and knowledge to help you and we have teamed up with retail change experts, Retail Project Associates who are specialists in space and layout planning, implementation planning and project management
There is of course a great deal to consider and, in this time, we believe retailers need to be almost chameleon in their ability to adapt to the changing landscape. Putting customers at ease in a managed environment with minimal barriers to the customer journey is important, and it is essential to create the best possible experience. Whilst hygiene, distancing and PPE are all essential considerations, it is vital that they do not inhibit the shopping experience. So, to provide retailers with those extra resources Ripple is stretching beyond its usual proposition to help the cause with the support of our old friends at the award-winning Retail Project Associates (RPA).
Change is of course best managed when it is planned, but sometimes when the world around us changes, the outcome for our businesses is determined by how we respond. The Covid-19 pandemic is the single biggest disruption that retail has seen since World War 2, and to put the scale of the issue into perspective, RPA has shared this analogy:
Every aisle, every piece of signage, every promotional display unit and every product on the aisle, had a specific reason for being in that exact spot.
Picture your local supermarket, before COVID-19 and the typical layout that you were used to seeing every day, the chances are that every aisle, every piece of signage, every promotional display unit and every product on the aisle, had a specific reason for being in that exact spot. Every aspect of retail space dedicated to fast-moving consumer goods is engineered to maximise spend on higher margin products, everyday essentials are spread or at the rear of store to drive footfall through the sales area, while checkout areas are laden with tempting impulse products. Now imagine what happens when there is a radical change to the rules and a change in customer behaviour and buying habits coupled with fearful employees! Combine this with the commercial pressure of sustaining a complex retail operation, and it is daunting.
The weight on the management is immense, from logistics and operational issues, to procurement and supply chain challenges, adapting the format and merchandising principles and implementing those physical changes, this is what RPA does and it is as important as it is interesting!
So whilst Ripple designs and manufactures many of the elements that accompany this change, RPA becomes an extension of the retailer's team, and they need to understand the current situation and agree the desired outcome before implementing a plan, this involves familiarisation, research and analysis, developing layout, checking feasibility and implementation, providing project management and resource where required combined with real-time feedback..
So, whether it is the whole store, queue management, implementation of Covid-19 prevention methods, re-planning categories or re-flowing of range this is what RPA can help with.
We want to pull back the curtain slightly on how this might be planned, and at the end of this article is an example of a reformatted checkout area, one point in store which is frequently a bottleneck. This is just one part of a whole picture and we would be happy to share our thoughts and ideas about some of the principles that would be deployed to help you though this process.
It is a very interesting time in retail, and it is good to see some evidence that things are moving ever so slightly back towards normality although it remains incredibly challenging for most. Now, more than ever it is important for retailers to seriously consider how to get shoppers back in-store in a safe and secure manner and this is where we can help.
In summary Ripple and RPA can provide support to retailers through change however it comes about, whether its reimagined space, new categories, range reviews, seasonal rollouts or indeed a pandemic. If you need extra resource and safe hands through this period of change, please let us know and we will be happy to help.
You can learn more about Ripple and RPA through the following links.
https://www.retailprojectassociates.com/
Before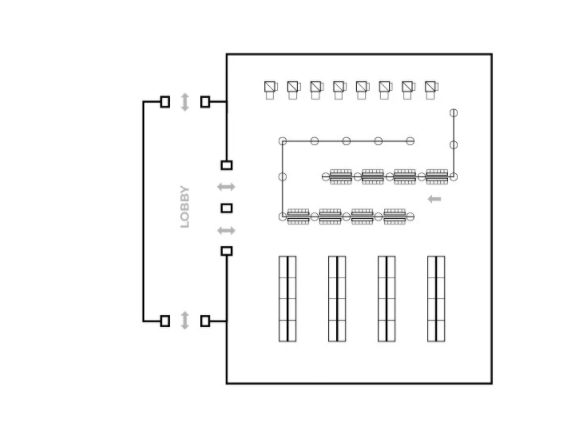 After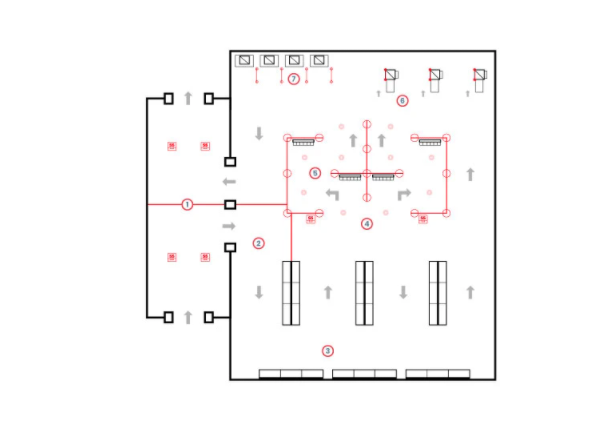 Single store exit & entry points, separated with dividers
One-way system introduced & Sanitiser Stations throughout
Aisle shelving reduced and reorganized to discourage lingering
Split cue for tills to promote social distancing in bottleneck area
Impulse purchase options reduced to avoid lingering
Number of manned tills reduced, and screens implemented
Introduction of self-serve checkouts